Our goal at Vibrant Square Dental is to provide treatment in every situation, and oral appliances offer a simple, non-invasive way for us to treat a variety of dental conditions. Every oral appliance we provide is custom-made for your smile to ensure your treatments are comfortable, practical, and discreet. Our dentists at Vibrant Square Dental have multiple treatment options to help you gain a healthier, happier smile.
How Do Oral Appliances Work?
Oral appliances are designed to fit your teeth and are specifically prescribed to treat problems related to the jaw, tooth bite, or other affected tooth problems. Also known as intraoral devices, oral appliances are preventative tools as well as treatments to help protect your mouth from further injury.
At Vibrant Square Dental, our team can provide oral appliances by employing a variety of designs to treat conditions such as:
Obstructive Sleep Apnea: Many people suffer needlessly from disruptive sleep disorders that prevent them from getting enough oxygen at night. Obstructive sleep disorder occurs when the mouth and throat muscles obstruct the airways, causing a severe drop in blood oxygen levels throughout the night. While sleep apnea machines are often used to treat it, oral appliances can also help hold the jaw in place throughout the night.
Teeth Grinding/Bruxism: Some people experience a subconscious habit of grinding their teeth. Also called bruxism, this abrasive action can cause headaches, problems with the jaw muscles, and even wear down the enamel over time. Oral appliances can be used to prevent bruxism throughout the night and protect the teeth.
Temporomandibular Disorders: TMD or temporomandibular disorder is a chronic facial pain condition that prevents the muscles, bones, and joints from working together properly. It can cause pain, difficulty chewing, and other problems. Oral appliances can help treat TMD by helping realign the jaw and alleviate pain over time.
The Treatment Process for Oral Appliances
At Vibrant Square Dental, the type of oral appliance you can receive will depend on your condition or problem. After a thorough consultation and exam, Dr. Maryna Kharkavets may request additional medical exams to help diagnose conditions such as sleep apnea or jaw joint disorders. After diagnosis, she and her team can provide multiple options, including: 
Night Guards: People who experience sleep disorders, nighttime bruxism, and other persistent problems that interfere with sleep can wear nightguards. Night guards are used to making bite adjustments as you sleep to prevent signs of tooth grinding, mouth clenching, nighttime headaches, TMJ disorder pain, and other conditions that cause issues with sleep.
Sports Guards: Sports guards are mouth guards that aim to protect your teeth and gums from injury during sports or intense physical activity. These mouth guards can also be developed to be fitted over your braces and can be replaced every six months for replacements.
Mouth Guards: Other types of mouth guards can be developed for treating other conditions, including sleep disorders like obstructive sleep apnea and TMJ disorder. In other cases, it can be used to provide support for misaligned teeth, prevent bruxism, and help any traumatic injuries to the jaws and teeth heal over time.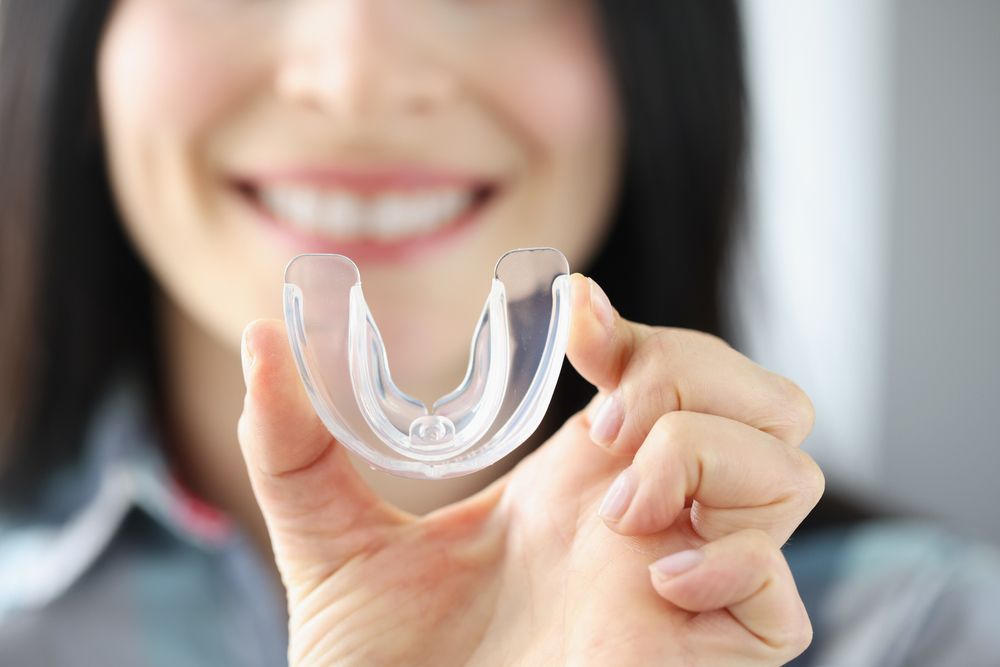 Schedule an Appointment at Vibrant Square Dental Today!
While most mouthguards can be purchased over the counter, having a customized mouthguard can provide you with substantial benefits. Custom-fitted mouth guards and other dental appliances can be used to reduce the risk of concussions, prevent jaw fractures, provide better sleep, and overall improve your oral health. These devices can be used for those of all ages, and when you work with our team, we will provide you with an extensive list of mouth guards for better protection from teeth grinding, poor quality sleep, and traumatic sports injuries.
Having a customized mouth guard can provide you with excellent benefits, and at Vibrant Square Dental, our team can provide oral appliances for all ages at our office. If you would like to learn more, make sure to schedule an appointment at our Vaughan, Ontario, office to receive a consultation.