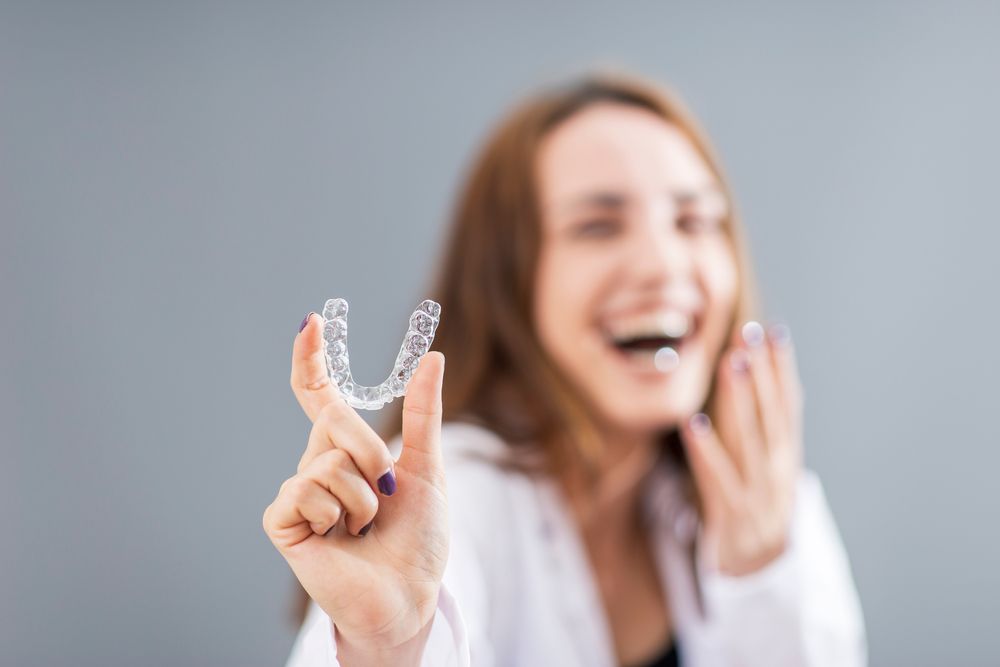 Invisalign clear aligners were introduced to the dental industry in 1998. Introducing these clear aligners represented nothing less than a revolution in how our team provided orthodontic treatment. Their clear material and ability to be removed completely changed the orthodontic patient experience. Patients who receive them frequently report them as being comfortable and convenient. While they are not a complete replacement for traditional braces, they have greatly limited the cases where bracket and wire braces are necessary.
The Invisalign Experience At Our Vaughan Office
Invisalign is an excellent option for most patients due to its ease of use and comfortable design. They are often inappropriate for very young patients who have difficulty leaving them in. Their design eliminates much of the discomfort that comes with traditional braces. The lack of braces and wires means there's nothing to irritate the cheeks or gums. Patients with Invisalign can remove them for up to two hours a day for hygiene and eating. This often removes the need for patients to limit the kinds of food they enjoy during orthodontic treatment. Invisalign can address a range of dental concerns, including:
Gapped Teeth – Gaps in your teeth represent more than just an aesthetic concern. Gaps represent spaces where neighboring teeth lack the support that helps them remain straight and in place. They also provide greater surface area that can be impacted by decay.
Overbite – Invisalign can help address overbite cases, where the upper teeth extend over the lower.
Overcrowding – Overcrowding can create a problem for neighboring teeth. Shifting them into the proper position can help provide additional space and limit stress on your teeth.
Underbite – When your lower teeth extend beyond your upper teeth, Invisalign can often help.
Invisalign is only able to address issues that are caused by improper alignment or placement of the teeth. This means that not all cases of overbite or underbite can be addressed. Additionally, overcrowding can sometimes require the extraction of one or more teeth to provide sufficient room. Our team can use Invisalign after these extractions to maneuver your teeth into place. More complex concerns such as crossbite or open bite require more advanced orthodontic care.
Invisalign is an incredible innovation in orthodontic care. The treatment has eliminated the costly nature of traditional braces. Adjustment visits aren't generally necessary, limiting your time to return to the office. Further, receiving Invisalign with only a couple of visits to the office is possible. Reach out to our office to speak with our team. They'll let you know if Invisalign is right for your oral health concerns.